Monte Rosa 4000m Peaks
The Alpine 4000m peaks represent a superb variety of challenges to the mountaineer. From the short, simple snow plod up the Breithorn to a Long and physical snow ascents like the Monte Rosa. To start you off on your 4000m Peak in the winter career we offer a week in Courmayeur, the most obvious starting point for climbing these peaks. After that private guiding with us will help you get the most out of your 4000m peak in winter season.
The 4000m Peaks
Breithorn 4165m,  Pollux 4092m, Castor 4223m, Punta Giordani 4046m, Zumsteinspitze 4564m, Punta Gnifetti 4554m and other 4000m peaks in the Monte Rosa area.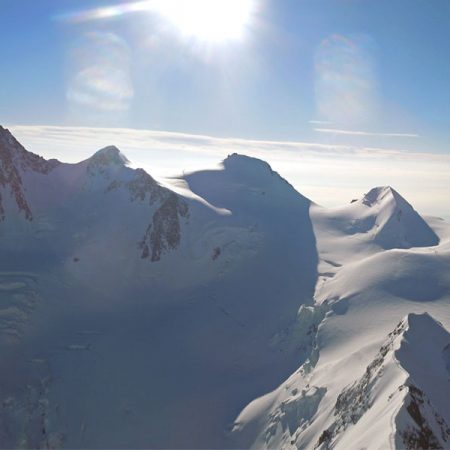 Climb the Mont Blanc Summit
Mont Blanc is the highest summit in Western Europe and a classic mountaineering challenge. Our training and acclimatisation program involves reaching 4000m prior to making the final ascent. Acclimatising properly like this makes a huge difference on the final summit day…
Only Mont Blanc! Well, Mont Blanc alone would already be challenging but, in reality, the peaks over 4000m. are two – the Grand Paradiso and Mont Blanc. This is the tour for those of you with little free time who aspire to climb the highest peak in Western Europe at least once in your lifetime.