Mixed Climbing Course in the Mont Blanc range
"Our Mixed Climbing Course is ideal for mountaineers who have attended an alpine intro course, or done some Uk winter climbing before and now want to cut their teeth on longer, more technical routes and high quality alpine summits."
A varied week of technical ice and mixed climbing in the Mont Blanc Range. Routes are chosen to make best use of current weather and conditions, with client aspirations fully taken into account.
Course Aim
– Understand and try to realize an accurate analysis of the mixed.
– Improve your balance and body position.
– Anchoring as precisely as possible your ice axes and crampons.
– Safety instructions, use of ice screws and different systems of protection.
– Abseil & belay technics on mixed.
– Multi pitches mixed routes in the High Mountain.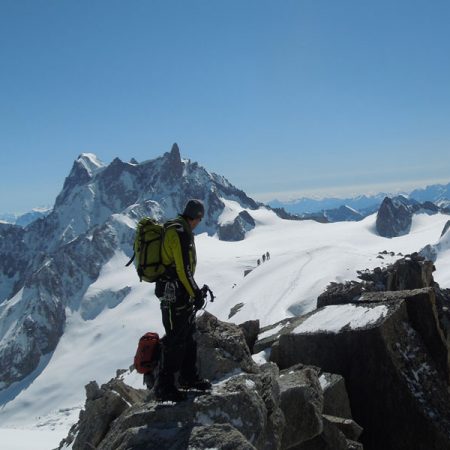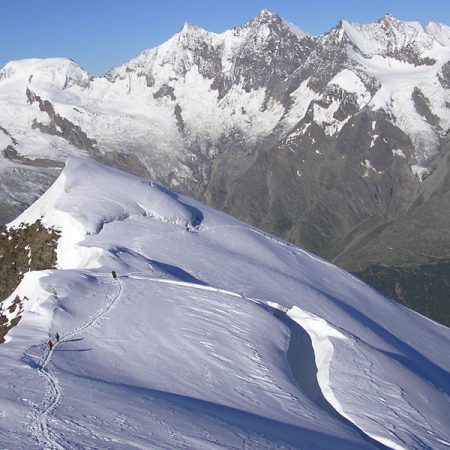 Saas Fee 4000m Peaks
The Saas region has the greatest concentration of 4000m peaks in the Alps and is one of the very best centres for classic mountaineering. There are no less than eighteen 4000m peaks surrounding the area. Most of the peaks can be ascended without encountering great technical difficulty, however good fitness and some experience of using crampons and an ice axe are necessary. This experience can be gained on one of our introductory alpine courses.
The 4000m Peaks
Alphubel 4206m, Weissmies 4023m, Lagginhorn 4010m, Strallhorn 4190m, Allalinhorn 4027m.